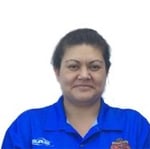 Rachel Gwerder
Director of Development
Has over 25 years of experience as a coach, has spent the majority of this time in full-time employment in player development. Has led the development programmes at following associations, North Harbour, Waikato, Otago and Tauranga. Was employed by Basketball New Zealand as the South Island Coach and Player Development Officer. Mentor Coach on BBNZ Koru Tour for 15+ years. Coached for many years within National Programme from NZ U16's through to the Tall Fern's. Has coached and developed a huge stable of players through to National Age-Group and Tall Fern's and Tall Black level.
Recipient of following BBNZ Awards - Carolyn Grey Coaching Scholarship, Prime Minister Scholarship, Merit Award for 10 years service, Services to Women's Basketball
Recipient of Australian Country Junior Cup Services to Basketball.
Gee Cooney
Contracted Coach
A proud local Ngati-ranginui & Ngati-kahungunu descent. Both knowledge and passion for the game were developed through Te Puna School, Otumoetai College, and the Representative Programme. As a player, Gee attended three Koru Tours 95-97, and coming full circle returned to the tour in 2017 as a coach. She has coached school basketball and representative basketball locally, as well as in Australia, where she was based for 2 years. Has a certificate in both Health/Fitness and Sports Leadership from Te Wananga o Aotearoa.
Igor Cvjetkovic
Contracted Coach
Born and raised in Serbia where he learned the importance of footwork and strong fundamentals. As a player, Igor was a part of Tauranga Boys College "Titans" from 2015-2017, while currently playing for the TCBA's U23 and Men's team. From early 2018 he's been studying Bachelor of Sport and Recreation while coaching Representative Teams. So far Igor has attended 2 Basketball New Zealand National Selection camps, where he was involved with U15 Boys. January 2020, Igor also gained his first international experience while attending the Koru Tour as a U14 Boys coach.
Mel Bennett
Contracted Coach
Mel has coached at all levels - individual, school, rep and National. She has had extensive international travel and uses technology to help create and build culture, game and individual development. She has coached for TCBA, Western Bay and Tauranga Basketball for 25 years