Mark Rogers - General Manager
Portfolios: Funding, Sponsorship, Events, Staff Ma
Has been involved as a CEO or GM of a Basketball Association for the past 15 years. Prior to this spent five years as a Director of Sport at a High School. Has been involved as a volunteer coach for roughly 25 years. Head coaching at all levels from school teams through to Men's National 2nd Division and Basketball New Zealand National Age group sides. He has coached association rep teams in the following associations: North Harbour, Waikato, Otago and Tauranga.
Mark has also volunteered on Basketball Association Executives and committees and managed a national age-group team. Other voluntary roles have included Chairman of Basketball Pacific and the New Zealand Universities Basketball Association. Mark was an appointed member of the Basketball New Zealand Community Advisory Group (CAG) for six years before stepping down at the end of 2019. As a player, Mark played age group and adult representative basketball for Waikato, and North Harbour as well as being captain of the New Zealand Universities side.
Rachel Gwerder - Director of Development
Portfolios: Development & Representative Programme
Has over 30 years of experience as a coach, has spent the majority of this time in full-time employment in player development. Has led the development programmes at following associations, North Harbour, Waikato, Otago and Tauranga. Was employed by Basketball New Zealand as the South Island Coach and Player Development Officer. Mentor Coach on BBNZ Koru Tour for 18+ years. Coached for many years within National Programme from NZ U16's through to the Tall Fern's. Has coached and developed a huge stable of players through to National Age-Group and Tall Fern's and Tall Black level.
Recipient of following BBNZ Awards - Carolyn Grey Coaching Scholarship, Prime Minister Scholarship, Merit Award for 10 years service, Services to Women's Basketball. Recipient of Australian Country Junior Cup Services to Basketball.
Helen Richardson - Competitions & Events Manager
Portfolios: Leagues, Events & Admin Support
Has been involved in basketball as an administrator for the last 20 years, in Manawatu and Tauranga. As part of the administration role it has seen her colaborate with Basketball New Zealand to organise and run Secondary School Nationals for 9 years. She has been an assistant coach and manager in the Basketball New Zealand National Age Group sides, with the NZ U16, U18 and U20 Womens Teams, as well as teams on the BBNZ Koru Tour. She has also coached in Nelson, Canterbury, Manawatu and Tauranga.
Tricia Begley - Finance Manager
Portfolio: Finance
Tricia is an absolute lifer in regards to basketball, having played and had success at Club, Representative, WBL and Masters level.
Coached for Aquinas College, and one of the small group that initiated the parent basketball committee for the school.
In early 2000's was an administrator for WBOP / TCBA, after a hiatus is back with our team as Finance Manager.
Jeanna Cooney - Women's & Club Lead
Portfolios: Girls Got Game, Girls & Women and Club
Ko Mauao te Maunga, ko Tauranga te Moana, ko Takitimu, ko Mataatua, ko Tainui ngā Waka
Ko Ngāti Ranginui, ko Ngāi te Rangi, ko Ngāti Apakura ngā Iwi. Ko Pirirakau te Hapu,
Ko Paparoa te Marae. Ko Jeanna Cooney toku ingoa, no reira tēnei te mihi kia koutou katoa.
The youngest of the whānau being active and playing sport was a positive pathway encouraged by my father and mother. Having played many sports growing up, Basketball took me to places and introduced me to many people from around the motu. A secondary school player, Tauranga representative player, a NZ Koru player the passion for the game was evident.
After having my own whānau of four and the addition of my niece, my passion led me back down the path of coaching. Giving back to the game and empowering our future rangatahi to be leaders through sport. My coaching experience of 11 years includes 3 years in Australia and 8 years in TGA with our pepi through to our wāhine. I have a holistic approach with an emphasis on hauora, and my values of whānaungatanga and manaakitanga are an integral part of who I am and what I do. I will leave you with this whakatauki that connects in with my mahi and I.
"He aha te mea nui o te ao. He tāngata, he tāngata, he tāngata."
What is the most important thing in the world? It is people, it is people, it is people.
Luke Appel - Development Officer
Portfolio: Player Development, In School Coaching
Luke has been coaching basketball for 20 years, 10 in a full time capacity and 10 in various volunteer roles. Has coached in Australia, USA, and New Zealand, from Under 7s through to professional teams. Moved to Tauranga to coach for TCBA 8 years ago, and now considers himself a local despite his American accent.
Luke enjoys coaching players new to playing basketball, or new to representative level basketball, and helping instil a lifelong love for the game.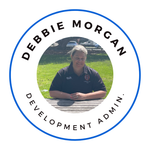 Debbie Morgan - Development Admin. Support
Portfolio: Development Programs Admin Support
Debbie has been involved in basketball as a parent for the last 7 years in Regional Victoria Australia, with two sons playing competitively and travelling throughout Victoria. Debbie has a background in business support having worked for the National Disability Insurance Agency in Australia for the past 5 years.
Debbie and her family have moved home from Australia after 8 years in Regional Victoria.
Audz Abbot - EBOP Development Officer
Portfolio: Player, Coach, & Referee Development
My mothers from Te Whanau A Apanui, my father Ngapuhi. Some of my best memories growing up were travelling to our whenua, the hikoi was 10 hours alone by car, but all part of spending QT with whanau.
My role is to develop coaches, referees, and players in the Eastern Bay of Plenty which covers these main areas - Whakatane, Opotiki, Kawerau. I continue to upskill, no matter how long I've been in the game, as the game of basketball continually changes.
When I have my coach's hat on the challenge is to teach the tamariki the word 'respect'. When faced with challenging moments this is what will help them grow and in order to grow as a player, you have to love the game. This is what I enjoy teaching our kids today.
toa, ngaro ranei i runga i te ngakau mahaki – win or lose with humility