Mark Rogers - General Manager
Portfolios: Funding, Sponsorship, Events, Staff Ma
Has been involved as a CEO or GM of a Basketball Association for the past 15 years. Prior to this spent five years as a Director of Sport at a High School. Has been involved as a volunteer coach for roughly 25 years. Head coaching at all levels from school teams through to Men's National 2nd Division and Basketball New Zealand National Age group sides. He has coached association rep teams in the following associations: North Harbour, Waikato, Otago and Tauranga.
Mark has also volunteered on Basketball Association Executives and committees and managed a national age-group team. Other voluntary roles have included Chairman of Basketball Pacific and the New Zealand Universities Basketball Association. Mark was an appointed member of the Basketball New Zealand Community Advisory Group (CAG) for six years before stepping down at the end of 2019. As a player, Mark played age group and adult representative basketball for Waikato, and North Harbour as well as being captain of the New Zealand Universities side.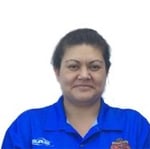 Rachel Gwerder - Director of Development
Portfolios: Development & Representative Programme
Has over 25 years of experience as a coach, has spent the majority of this time in full-time employment in player development. Has led the development programmes at following associations, North Harbour, Waikato, Otago and Tauranga. Was employed by Basketball New Zealand as the South Island Coach and Player Development Officer. Mentor Coach on BBNZ Koru Tour for 15+ years. Coached for many years within National Programme from NZ U16's through to the Tall Fern's. Has coached and developed a huge stable of players through to National Age-Group and Tall Fern's and Tall Black level.
Recipient of following BBNZ Awards - Carolyn Grey Coaching Scholarship, Prime Minister Scholarship, Merit Award for 10 years service, Services to Women's Basketball
Recipient of Australian Country Junior Cup Services to Basketball.
Helen Richardson - Support Coordinator
Portfolios: Leagues, Events & Admin Support
Has been involved in basketball as an administrator for the last 14 years, in Manawatu and Tauranga. As part of the administration role it has seen her colaborate with Basketball New Zealand to organise and run Secondary School Nationals for 9 years. She has been an assistant coach and manager in the Basketball New Zealand National Age Group sides, with the NZ U16, U18 and U20 Womens Teams, as well as teams on the BBNZ Koru Tour. She has also coached in Nelson, Canterbury, Manawatu and Tauranga.