Courtfinder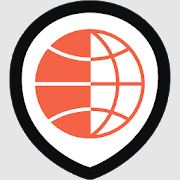 Want to play ball, no matter where you are? On a business trip, in a new neighborhood, or on vacation?

The CourtFinder Android application will help you locate the closest and best blacktop to shoot hoops near your current location or any address.
The CourtFinder database provides access to thousands of streetball court locations in more than 200 countries of the world, including public parks, playgrounds, schools, universities and other sites – hidden behind fences or in remote places.
See a map of the closest courts to you or look for spots anywhere in the world!
Each basketball court's name, address, plus the description on how to get there!
Add your own photos to court locations! Take a picture of your buddies rocking the rim or taking it to the hole.
Comment on a court you've visted! Share your opinion about playing conditions and the local competition.
Upload a new court as you're standing on it! Take a picture and add it on the spot.
Watch YouTube videos of the game action on some of the most popular courts!
See how many stars a court gets in Courts of the World's website rating!
Weather conditions for each court can be used to predict whether you should plan a game for day!